Caravan Batteries & 12v Battery Systems for Caravans
12v Battery Systems for Caravans with Australia Wide Delivery
Experts in 12V Caravan Batteries and 12V Battery Systems for Caravans Australia. We stock a large range of reliable 12V Batteries for every type of caravan setup at the best prices. Need a 12 Volt battery system for your caravan? Aussie Batteries & Solar stock a full range of 12V Battery Systems for Caravans and all your possible 12V power applications. Call our 12V Battery System experts on 1800 853 315 for a FREE QUOTE or view our batteries online below. We supply a range of high quality deep cycle batteries for caravans, camping, marine, solar, tools and all your 12V or Off Grid power needs! We deliver 12V Caravan Battery Systems to your door Australia Wide!

Buy 12V Battery Systems for your Caravan, Camping, Camper Trailers, Camper Vans, Motor-homes, Marine, 4WDs & Off Grid Solar. Call the experts at Aussie Batteries and Solar for AGM Batteries, 12V Deep Cycle Batteries & AGM Deep Cycle Batteries WE DELIVER 12VOLT BATTERY SYSTEMS - DIRECT TO YOUR DOOR!
Caravan 12 Volt Systems & 12V Battery Setups for Caravans
12 volt systems are powered and run via an onboard AGM Deep Cycle Battery, and provide power for all your 12V caravan accessories, as well as strip lighting and a toilet pump. The best 12 volt caravan system runs everything that uses low 12V wattage.​ Learn more about why our Deep Cycle Batteries are one of Australias best selling AGM Batteries because of their high capacity, exceptional deep-cycle resistance and the highest levels of safety and operational reliability.
Starting with the heart of any 12V Battery System for Caravans is the essential part of the battery. There are mostly two types of caravan batteries:
1. A vehicle's starter battery.
2. (AGM) Absorbed Glass Mat Batteries - AGM DEEP CYCLE BATTERY
AGM Deep Cycle Batteries for your caravan will be the most significant battery in your setup. It is important to remember that a starting battery is not sufficient for use in a Caravan 12v Battery System as such you should invest in a reliable AGM Battery.

Lithium Deep Cycle Batteries vs AGM Deep Cycle Batteries.
Here are our thoughts on the topic - At present
lithium batteries for their cost won't give returns like an AGM Deep Cycle Battery in terms of the cost vs power output. So, like all new technologies we would rather wait till the customer is getting what they pay for in terms of power that is cost effective - if that makes sense ? So don't pay 400% + for the same power output just to get in front of new technology!
Aussie Batteries
experts firmly believe that an AGM Battery at $269 will give customers in present times a much better return on investment so you get more power for a better price with AGM Batteries!
The most significant difference between Deep Cycle AGM Batteries and the newer lithium-ion batteries is price. For caravanners who mostly stay in caravan parks, an AGM Deep Cycle Battery will most often be the better investment as these batteries can be used also for lengthy stays in remote locations around Australia. Battery capacity requirements will most often depend on the user, but a standard 140AH Deep Cycle Battery will generally work a treat for those who spend most of their time in caravan parks. However, extra caravan batteries should be considered if you require more power. Remember that it is also best if running batteries in parallel that they are same the age and voltage output. If you need expert, tailored, no-obligation advice for 12V Battery Systems for Caravans EMAIL or call our friendly team on 1800 853 315 or download and print our battery Power Estimator to help you work out the best Deep Cycle Battery for your application. Need a Deep Cycle Battery Bank for Solar or looking for great deals on Solar for Camping or 12V Accessories.
BROWSE OUR FULL RANGE OF 12 VOLT BATTERIES - OFF GRID POWER - BATTERIES & SOLAR PRODUCTS - AUSSIE BATTERIES & SOLAR
nominal solar voltage
12v
More information about 12v Battery Systems for Caravans
Battery size does matter when it comes to your Caravan Battery Setup

The most common Caravan Battery setup that most caravan manufacturers supply will include 2 x 120amp batteries, with 2 x 150 watt solar panels on the roof and a 40amp AC Caravan Battery Charger. This will give you the basic convenience of running your 12 volt appliances off your battery system, and have the ability to re-charge your caravan batteries through mains 240 volt power connected to your caravan or 12volt solar panels mounted on your roof. Yes, a family will use more power than a single person or couple, although the difference when using 12volt appliances is not that great as most of the appliances need to be run regardless whether it is one person or five making this setup a good general fit for all. It is not recommended to use any less battery amp capacity or solar panel wattage in a caravan application as the performance advantage will out-weigh the cost advantage every time. Often people will upgrade their single battery, single solar panel after an inevitable inconvenient experience of no power.
Without including the 240volt AC appliances, the average caravanner will generally not deplete their batteries with this setup during the day as the solar panels will deliver enough power through the day to power your 12volt appliances while keeping your batteries fully charged. Even with this common setup, if you String 3 or 4 not necessarily cloudy, but rainy days together and you will be looking to top up your system by another charging source. This can be done with a Generator, Mains 240volt power or your cars alternator if you add a 40amp Enerdrive dc2dc charger to the setup. We also like this guide on caravan battery setups.
Blog Posts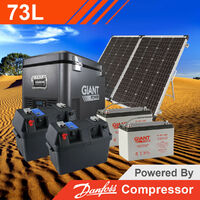 HOW TO GET THE BEST SOLAR POWER SETUPS FOR REMOTE CAMPING - The ultimate guide on how to get the best Solar for Camping and Solar Panel Camping Setups. Solar Power for Camping Explained:... read more
View more posts
Free eBook
Learn everything you need to know about
Deep cycle batteries
Solar panels
Portable fridges
Inverters
and more!
Download now